AXLE Platform
The foundation for all your marketing, communication, and operational needs, our CRM platform has been carefully developed to seamlessly integrate with Mindbody. The AXLE Platform is a vital tool for increasing sales and delivering top-tier customer service.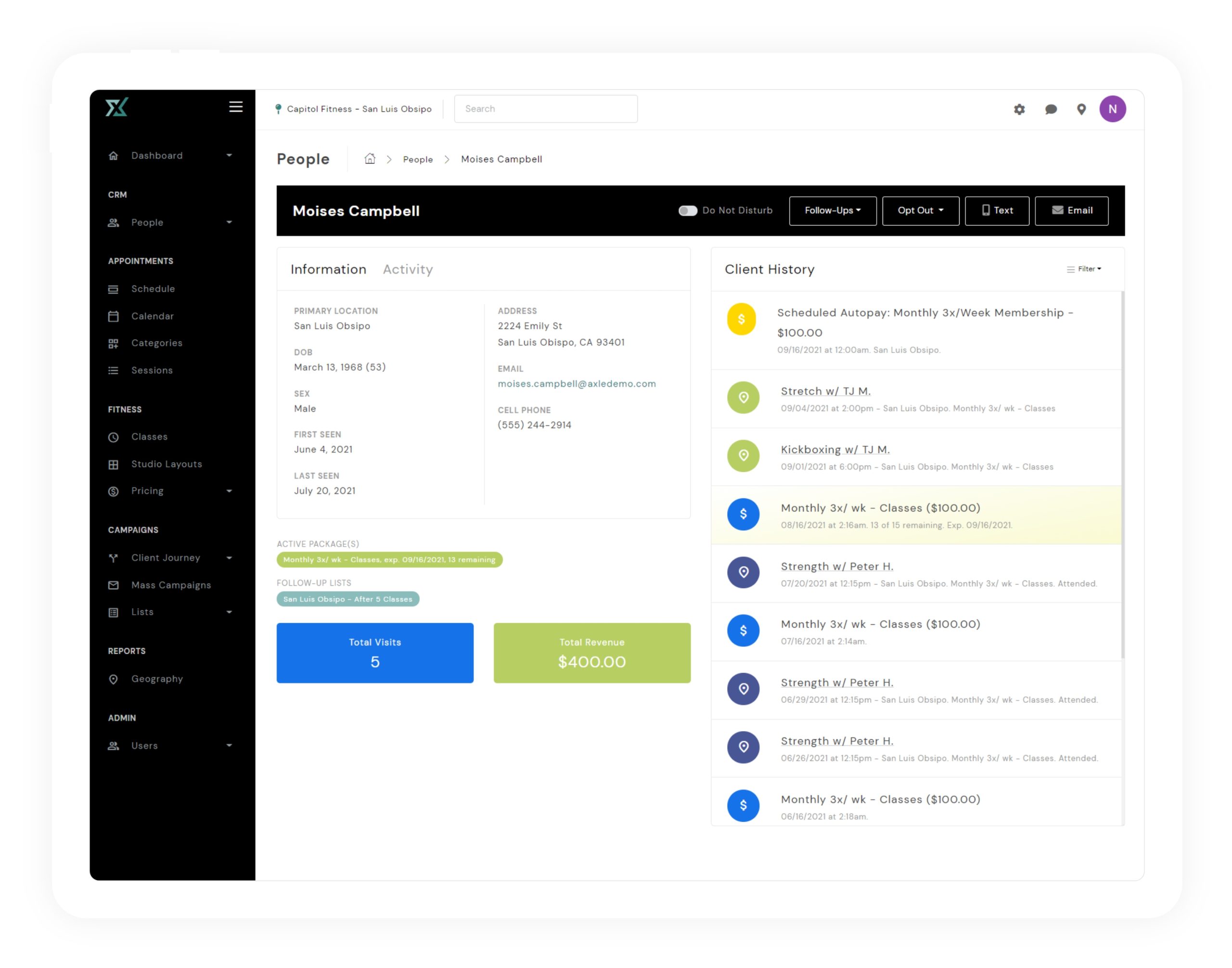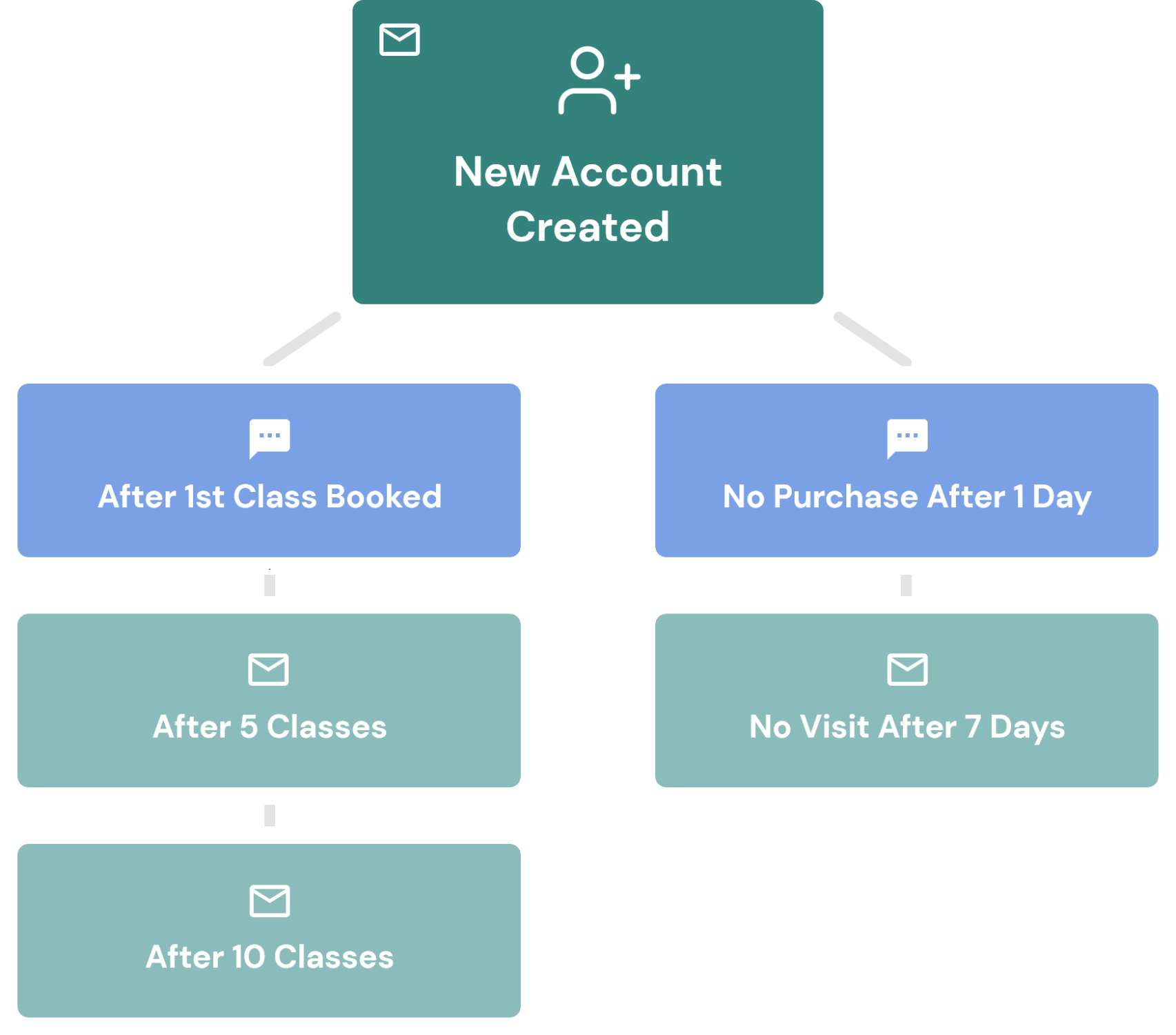 Automate The Client Journey
Build your own automations using our smart campaign builder. Set the criteria, frequency, and the specific audience. For email, our built-in editor gives you full flexibility over design with previews for desktop and mobile viewing. Best of all, you can easily clone campaigns and save templates as a starting point for all your designs.
Enhanced Lead Management
Keeping track of your leads has never been easier. Within the AXLE platform, you can filter and sort your leads by each funnel level. From there you can assign leads to sales managers while ensuring a successful, balanced, measurable, accountable workload. Advanced filtering also allows for an infinite amount of views to analyze and activate leads based on location, referral source, trial offer status, level of engagement, and visit history.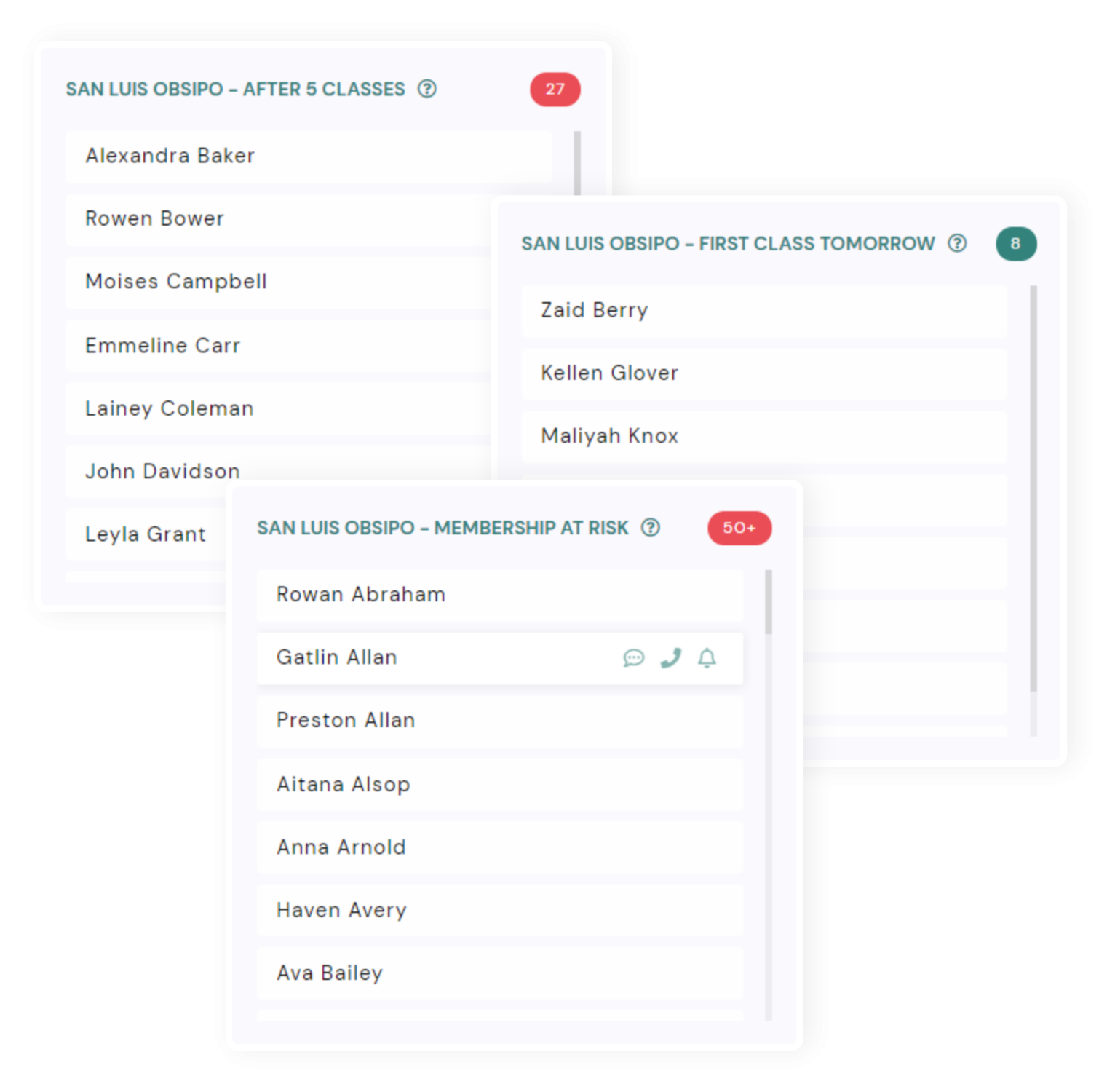 Smart Lists
By combining live sync with smart lists, our CRM allows you to utilize Follow-Up Buckets in order to manually reach out to leads or client's via multiple communication channels. More importantly, you can easily rotate your touchpoints between calling, texting, or email to ensure a lead is engaged or an inactive member knows they're missed.
Standard Features
Live Sync
The AXLE platform is live synced with Mindbody in order to always show the latest booking and purchases.
2-Way Texting
Manage replies to mass texts as well as configure quick responses with dynamic variables.
Mass Campaigns
All AXLE customers are entitled to unlimited complimentary email and push notification campaigns, plus low-cost mass texting.
Digital Forms
Triggers automatically send new client intake forms, liability waiver forms, or membership contracts.
Live Stream Classes
Our Zoom integration automatically creates and delivers virtual class invites so that members can join from anywhere.
Task Management
Ensure that everyone is always on the page by scheduling manual follow-ups or tasks for employees.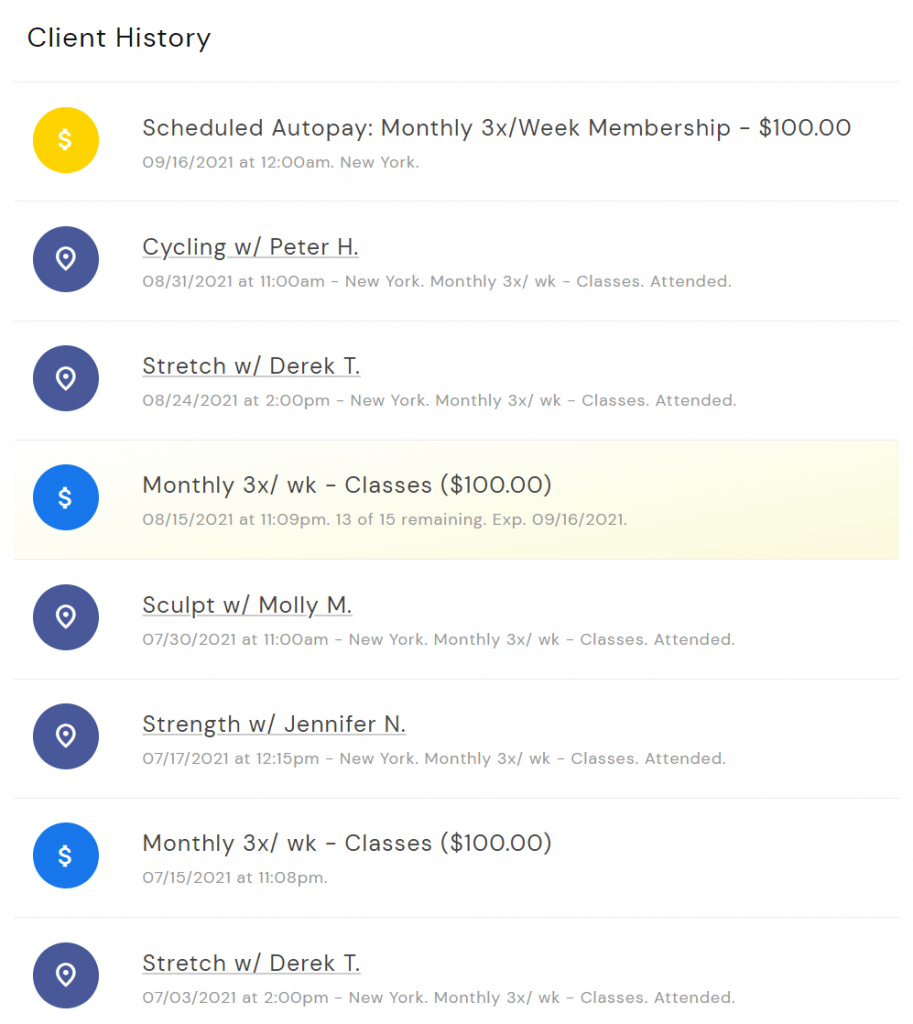 Clean Client Data
Our platform is the only solution that works behind-the-scenes to keep your client data clean. By that, we mean, it is designed to stop embarrassing emails and touch points. It does this by ensuring a client truly qualifies for a milestone award, new client offer, or a win back campaign. When paired with the Premium Branded App, it also provides frictionless sign-on and booking experiences.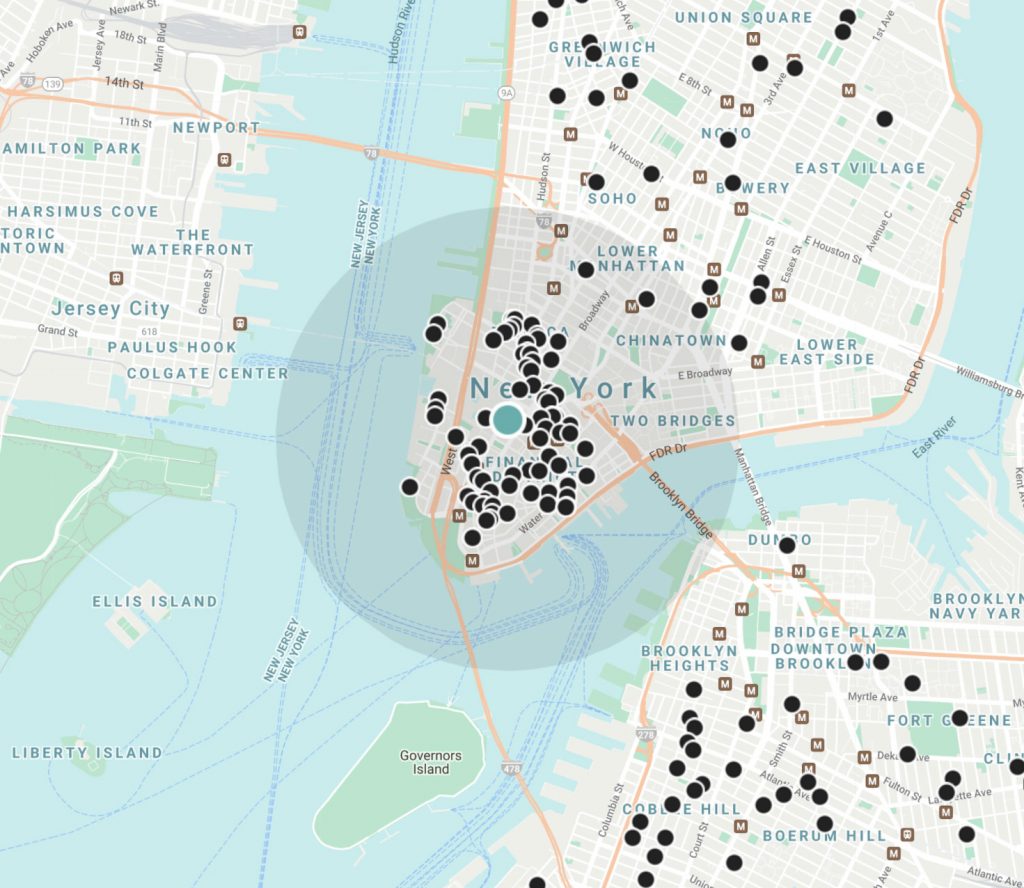 Client Mapping
Using the addresses on file in your Mindbody, we plot client locations in order to create a heat map that shows the distance members travel to your studio. This handy tool helps add precision to your geotargeting campaigns and also helps with knowing your audiences geographically.
Add-On Features
Late Cancel Fees
The AXLE platform is equipped with customizable settings that automatically process late cancel and no show fees each evening.
NPS Scores
Collect direct feedback from your members with aggregated company wide or single location scoring.
Phone System
Never miss a sales opportunity, monitor incoming and outgoing lead follow-up as well as quality of service in the CRM. Learn more.
Challenge Rewards
Keep clients happy by automating member rewards within AXLE's tightly integrated Mindbody system.
One-Of-A-Kind Capabilities
Our platform brings multiple vendor functionalities under one roof. Moreover, not only does AXLE help your budget, but it also outperforms by creating a solution with capabilities that work in tandem to accomplish marketing and communication strategies that weren't possible before. For example:
Automatically send liability waiver forms and intake forms to clients as well as pre-class rosters to instructors.
Send automatic push notification or a text to client's sitting on the waitlist plus send them to your AXLE Premium Branded App for a quick 'Add to Class' button.
Using our late cancel/no show fee processing, you can send automatic emails to offer new members a one-time exception.
Collect NPS scores from your members and automatically trigger a manual follow-up with a member who submitted a detracting score.
Promote in-studio challenges to boost member attendance, then set minimums, track targets, encourage, and give rewards automatically.
Maintain the quality of your studio by targeting loyal members with feedback surveys after attending a class with new instructors.
Our platform keeps your business in shape.